Kapinka Parade Release Sold Out
Don't miss your chance to buy one of only 30 allotments in the limited Kapinka Parade Release in Riverlea's evolving and vibrant community.
With space to breathe and endless things to explore, there is so much to enjoy at Riverlea.
The Kapinka Release is the ideal destination with room to grow. A place where everything you need now and in the future will be in easy reach, from schools and shops, to places to work, play and relax.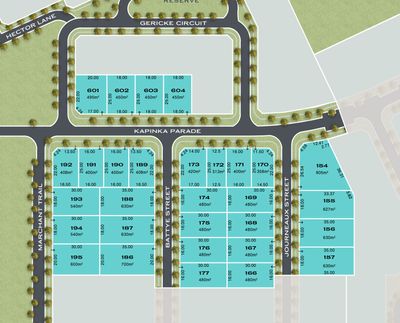 | Lot | Street | Size | Price | Status | Actions |
| --- | --- | --- | --- | --- | --- |
| 154 | Journeax Street | 805m² | | Sold | |
| 155 | Journeax Street | 627m² | | Sold | |
| 156 | Journeax Street | 630m² | | Sold | |
| 157 | Journeax Street | 630m² | | Sold | |
| 166 | Journeax Street | 480m² | | Sold | |
| 167 | Journeax Street | 480m² | | Sold | |
| 168 | Journeax Street | 480m² | | Sold | |
| 169 | Journeax Street | 480m² | | Sold | |
| 170 | Kapinka Parade | 358m² | | Sold | |
| 171 | Kapinka Parade | 400m² | | Sold | |
| 172 | Kapinka Parade | 313m² | | Sold | |
| 173 | Kapinka Parade | 420m² | | Sold | |
| 174 | Battyle Street | 480m² | | Sold | |
| 175 | Battyle Street | 480m² | | Sold | |
| 176 | Battyle Street | 480m² | | Sold | |
| 177 | Battyle Street | 480m² | | Sold | |
| 186 | Battyle Street | 700m² | | Sold | |
| 187 | Battyle Street | 630m² | | Sold | |
| 188 | Battyle Street | 630m² | | Sold | |
| 189 | Kapinka Parade | 408m² | | Sold | |
| 190 | Kapinka Parade | 400m² | | Sold | |
| 191 | Kapinka Parade | 400m² | | Sold | |
| 192 | Kapinka Parade | 408m² | | Sold | |
| 193 | Marchant Trail | 540m² | | Sold | |
| 194 | Marchant Trail | 540m² | | Sold | |
| 195 | Marchant Trail | 600m² | | Sold | |
| 601 | Kapinka Parade | 495m² | | Sold | |
| 602 | Kapinka Parade | 450m² | | Sold | |
| 603 | Kapinka Parade | 450m² | | Sold | |
| 604 | Kapinka Parade | 450m² | | Sold | |